Foundation
Before you start, if you havent read my other post about the basics of lead generation for coaches, I'd highly recommend checking that out before diving into this.
It'll help you understand the process a bit more and understand why we'll be doing the things we're doing in this deep dive into the strategy behind video content for lead generation and client acquisition.
So, if you're a coach I'm going to be helping you basically get on Facebook and start raking in clients through Facebook marketing. This is going to be a paid ads strategy.
This isn't going to be organic posting or just boosted posts or anything like that.
There will be sequences of content you can go create, use, test and scale for you and your coaching business.
Whatever it is that you do and whatever it is you help people with, you'll be able to go and implement and take action on this information after reading this.
What we'll be discussing:
Identifying your target audience and their desired transformation
Relationship development using content
Sequencing paid ads strategically to drive awareness through conversion and advocacy
Creating a landing page and lead magnet
Nurture sequences and retargeting
The first important thing to consider when selling anything is the relationship development aspect. No matter who you are or who you're speaking to, you want to have an authentic relationship with the person that you're trying to serve.
This whole strategy is centered around that tightly held philosophy that personal and authentic relationships are the starting point of any paid relationship.
We need to understand the needs of the individual we are trying to serve before pitching them anything even if its a free guide on how to improve something we think everyone needs to improve in their life (health, mindfulness, confidence, etc.). We dont want to waste their time or ours.
So what we do instead is create and distribute content that is likely to resonate with ideal clients. We want lots of top of funnel content which is content not intended to do anything but build relationships, rapport and trust with the people that the content is viewed by.
This will do more than just build up trust and all that fun stuff. It'll also give you an opportunity to show your knowledge and value before asking for anything in return. So we need to be doing things like putting out videos, blogs, or podcasts about common problems you see clients of yours having and how you help clients navigate those issues.
You can also check out one of my favorite resources on digital marketing (digital marketer) for more content ideas.

So once you have an understanding as to who you serve how you serve them, what differentiates you from other coaches out there, and other things that will help seperate you from other individuals in your industry with the same target audience, then ideally what you want to be doing is creating videos to build up your authority like I mentioned above.
Get Good With/On Video
By 2022, video viewing will account for 82% of all internet traffic
SIDE NOTE: There are so many benefits to video, if you're not good at being on video right now, I highly suggest just getting on video pushing stuff out there just getting good at being on camera because that's going to serve you well even outside of the digital marketing space.
If you do speaking gigs or anything that builds authority, ideally, that's what you want to record and distribute. We want to have at least 1-3 solid high authority / trust building videos that we can go out and push to cold audiences on Facebook.
Targeting and Sequencing Your Ads
Some of you may already know this but you can go and pay for those video ads to be placed in front of very specific people.
Check out the targeting options here specific targeting on ads for cold audiences to show your videos to. Shown above is a small sample of what you can do with cold audience targeting.
I'm sure a majority of you reading this right now have been targeted with very specific ads based off of your interests, the groups that you're in, Google searches, websites you visited and a ton of other third party data sharing. Facebook has about an 85% accuracy when it comes to targeting.
Using facebook to identify and target your video ads to people that fit your ideal demographics, interests, financial situation and other key ICP (ideal customer profile) criteria is probably one of the smartest ways to use your money. You're essentially paying to make sure you're not wasting your time or money on people that arent qualified or probably wouldnt be a good fit for what you have to offer.
So, when you have videos out there you want to take that video and target that video to ideal cold audiences / prospects without asking for anything in return. But the goal of the video is to, again, develop relationships, develop authority and develop rapport with people so they even take time to consider buying from you later on down the road when they see your face on an ad again.
So, when people are scrolling on Facebook, you want to try your hardest to make sure that the video isn't being scrolled past, you want the people to consume the video, at least 50% of the video. But ideally, 75 to 100%.
This isnt just for the heck of it, it's a vital part of the overall strategy because the percentage of the video that is watched is actually tracked by Facebook and can be used to create something called a custom audience.
You can create a custom audience based on the percentage of the video that was watched like I mentioned above. So getting people to watch your first video 75% or more is the first qualifying factor before audiences move to the next step of the ad sequence / funnel (1. awareness > 2. engagement > 3. conversion) and before it triggers the next ad.
"enter the number of days people will remain in your audience after they engage with your video(s). People are removed from your audience after the set time period unless they engage with the video(s) again.
For example, if you tell Facebook to go back 30 days and a person engaged 29 days ago, they'll be in your audience. However, if they fail to engage the next day, they'll be removed from the audience. Anyone new who engages within the time period you choose will be added to the audience. This means that the audience is constantly being refreshed, so you don't need to edit or create a new Engagement Custom Audience unless you want to change the time period or the type of engagement."

So essentially what you'll be setting up is an automated machine on Facebook that you set up prequalifiying factors for and then you let it sit and push money into the machine and test over and over again till you have an efficient acquisiton machine.
Obviously here's more to this than just wads which we'll get into in a second but know that the ads are vital and where the most volume of people will be. So making sure that your videos you're pushing out are good and targeted to the right people along with having compelling copy, is essential.

After that, you'll want to set up a second campaign retargeting the people that have viewed at 75% or more of that video this, in this is where it gets kind of tricky depending on what your objective is and what you're trying to do. You want to have content that starts to answer questions that starts to basically provide value for who it is that you're targeting/retargeting.

And you want to start pushing out those videos that help solve problems you deal with a lot. I would even (depending on your budget), push out 5-10 and find out which pieces of content are doing the best and start to get feedback on what is resonating most with the people that you're targeting.
This is an iterative process that requires testing and optimization. You'll either want to manage this yourself manually, outsource it to someone or use some AI tech that auto-optimizes for you based on objectives and specific metrics you want to base your decisions off of (CPM, CPL, CPA, etc.)

And those pieces of content you're pushing out should be leading to a landing page with your lead magnet (which should be mentioned at the end of your vides you pushed out along with a "learn more" CTA (call to action) on the video ad.
So when you're on Facebook, if you were the target audience, you want to have people viewing the content, and then clicking on the "Learn more" or "download now" on each of these video ads, there should be an invitation for you to get the free lead magnet you've created for your target audience.
Below is an example of what call to action options there are on video ads that you can choose from. But again, if you're driving traffic to a landing page where people get their lead magnet, I've seen "download now" and "learn more" work best.
And if you dont know what a lead magnet is, it's basically something you create before someone does business with you at all. It's really just a qualifier / filter to make sure you aren't wasting your time with someone thats not quite ready to work with you. The prospect views it as a high value item that they can use to help them to progress in some way but to you it's mostly another phase in the process of conversion and acquisition.
So this is basically to get them into a nurture sequence and into a retargeting campaign as well. The goal is to give them some free value up front in exchange for their email address along with their consent to communicate with them in the future.
You have their email now, you gave them a lead magnet in exchange for their email address. You gave them something of value in exchange for something you can use to have free and direct communication with them without paying for it or relaying on other platforms to deliver your message.
Now you push out emails and retargeting campaigns to those specific emails on Facebook. I won't dive into the specifics of retargeting or using custom audiences using CSV files here but here's a link to a page about using your email list for targeting on facebooks platform if you want to dive in and read more about it.
So, just to be clear, those videos that you push out after your awareness and engagement campaigns, should be inviting them to get their free lead magnet at the end of the video(s). And the content that you push out should be related to the lead magnet in some way. Or you should be able to go from the content and somehow tie the lead magnet into the end of the content somehow.
Creating a Landing Page and Lead Magnet
For example, this company shows free fitness videos on facebook and other social platforms, then gets people to come and watch more videos on their site as a little "teaser" to get them to want to watch the rest of them in exchange for their email address. Then those people that give their email to watch the rest of the videos are likely targeted with email campaigns to convert them into paid programs.
This is the same flow you should be following for acquiring clients for your coaching business efficiently.
Lead magnets can be a checklist to help prospects get to a certain goal, it can be a "how to" guide, it can really be anything but it has to be very focused on what it is that your target audience is trying to accomplish.
You again, need to know what their desired state and transformation is. Now this lead magnet needs to help them at least to get a part of the way towards that transformation.
I don't want to say you should be doing this for your first lead magnet, but you could be creating video trainings like above, on how to do some of the stuff you're coaching people on. These things take time to create so take that into account when you're making these. Even a pdf can be time consuming to create and set up the system to deliver it along with setting up forms and automations and stuff like that along with it.
Side note: Lot's of people I talk to worry about the fact that if they get free stuff then what will happen if thats all they want and they dont pay?
I tell them "so what". You don't want to waste your time with them anyways. You want to be working with people that value your coaching services and are willing to pay for your services. And you also don't know if they'll come around some other time when they really need a coach.
Your videos they watched a year ago could lead to sale today. So go into this with a give, give, give mindset and then take when they're ready to give you their hard earned money in exchange for your services.
A majority of people will want your coaching even more after they consume that lead magnet along with other content of yours that you push out and they realize how great your free stuff is and how valuable your paid stuff must be.
And when they go through and consume your lead magnet and get at least a little bit of what they're trying to achieve, or progress in some way, it will qualify them and develop a relationship, even more, and increase the chances of them actually becoming a paying client of yours. They'll get a taste of something and want more of what you push out
Technicality: If you're sending a pdf or a doc of any sort for your lead magnet, you should follow this process if you're just getting started. You'll be walked through a set up to make sure your lead magnet gets delivered and you verify emails that are entered into forms on your site (or in lead forms on facebook if you choose to use those in your marketing campaigns). And here are some lead magnet ideas for you to ideate with.
Nurture Sequences and Retargeting
I'm not going to write a whole lot about the nurturing here but its a vital part of increasing your conversion rate (increasing the number of leads that turn into paying clients). Here's a deeper dive into lead nurturing if you'd like to get a better idea as to how to go about navigating the process of lead nurturing.
After they get your lead magnet, they're going to go into an email nurture sequence which should be triggered when someone which has a sequence of templated emails that have links to other other pieces of content that you've put out that you want them to consume or is trying to entice them to consider your paid product or service until they go and book a time on your calendar for you to "close" them on your coaching services.
Unless you're in the very beginning stages of your coaching and just starting out, you don't want anyone on your calendar, that doesn't have a high likelihood of becoming a paying client.
So you want to have them basically develop a relationship with you scalably and primarily through online content, not your precious time.
You want booked meetings with those people really ready to come on board be coached by you for whatever it is that you're coaching them for.
You shouldn't be getting anyone on your calendar, until they've consumed your lead magnet and gotten value from that along with hopefully having a solid relationship developed through your online content that they've viewed.

And then, are ready to do one on one sessions with you or booking to some of your coaching groups or anything paid really.
The Feedback Loop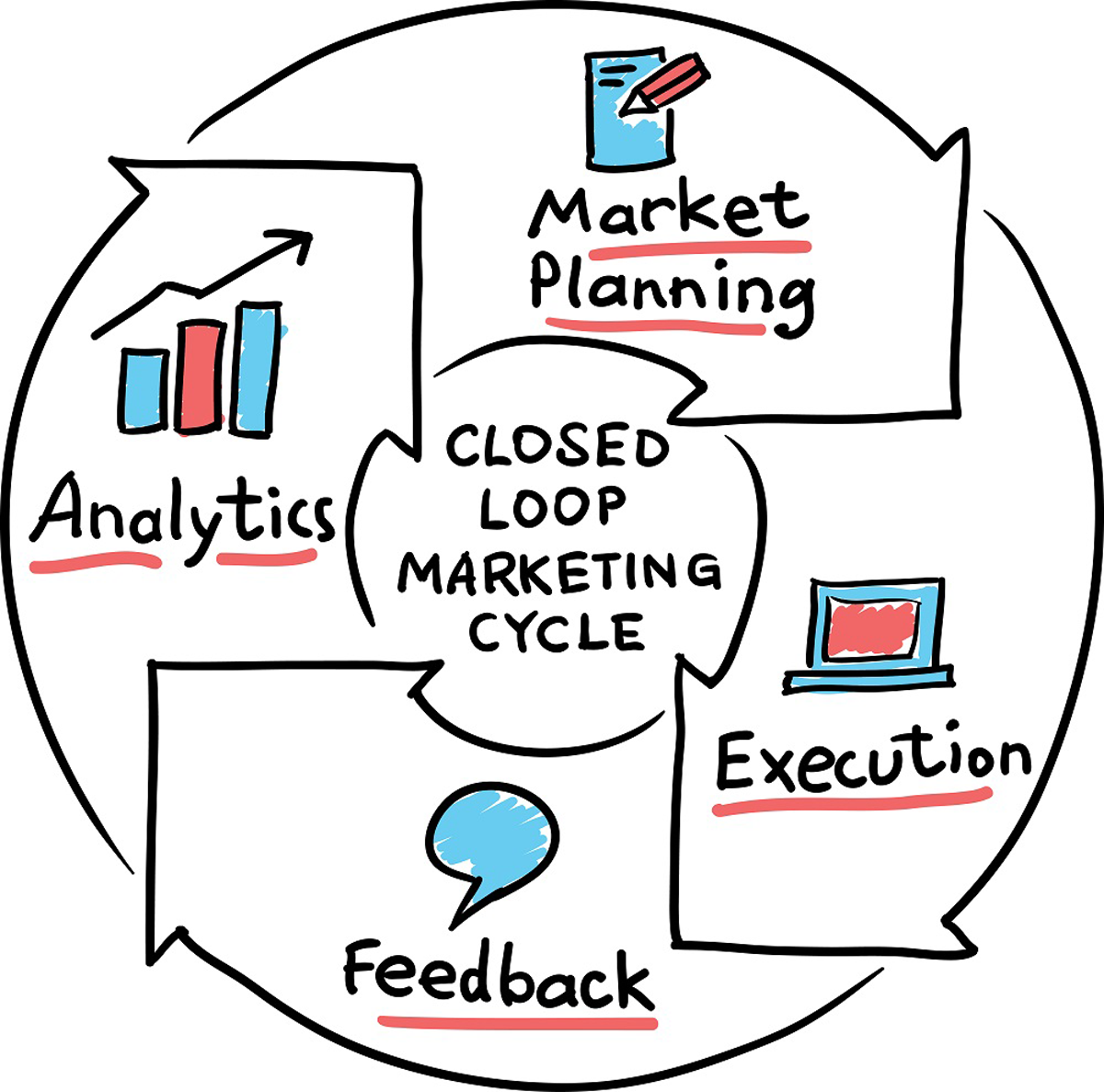 There's a lot of information here to digest and implement. You may be a little overwhelmed and maybe a little confused if this is your first time diving into technical digital marketing approaches.
But know that there's no end to learning and that you'll learn what you need to as time passes and as you try things out and find what does and doesnt work for you and your business. This is a system that will need tweaking over time and the sooner you start implementing and taking action the sooner you'll get the results you want.
So you need to make sure that imperfect action is the primary goal over perfecting this whole process and knowing everything about it immediately.
So to synthesize and walk you through the basic steps of setting this all up, here's what you need to do:
Create landing page(s) for your paid coaching offer(s)
Create lead magnets that somewhat relate to the desired outcome your offers usually help solve for clients (checklist, how to guide, help videos, etc.)
Create landing pages for your lead magnet(s) that you can drive traffic to from other pieces of content you distribute
Set up email software (mailchimp, mailgun, hubspot, ontraport, etc.) and prepare an audience list for when forms are filled out so that verification emails are automatically sent when forms are filled along with the lead magnet after email is verified
Create content that revolves around issues that clients often have and offer a lead magnet in the end of videos or blog posts to help solve part of that problem without your 1 on 1 help
Set up your Facebook business manager and create a page and pixels for your account
Set up pixels on your pages so you can track conversions off the Facebook app
Set up your video ad(s) and custom audience in facebook to start gaining awareness and driving traffic to your lead magnets and getting email addresses
Set up email drip campaigns / nurture sequences that will be sent to your email list once email is verified
Refine and improve this whole process over and over till you have created an efficient machine that can generate clients as soon as you turn on your campaigns.
If you'd like help with this rather than setting it up yourself, you can set up a time with me here to see if we're a good fit and if I can help you reach your objectives and goals as a coach.
And if you'd like to read more about digital marketing in general and understand it more fully, you can check out my brief post here that breaks down the different parts of digital marketing. It's unfinished but it at least breaks everything down for you into organized components of the digital marketing ecosystem.